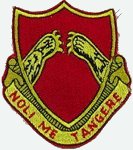 NOLI ME TANGERE
(let no one touch me)
Why making a website for the 321st GFAB ?
I have met Ray Nagell (WWII, 321st GFAB) for the first time in Bastogne in September 2007, when we organized a Medal Presentation for him and 2 friends of the 501st PIR just outside of the Nuts Cave in the Army Barracks.
I met Ray again on December 15th, while watching the Liberty Jump out of a C47 Dakota close to Chateau Rolley, west of Bastogne, and after that we had a nice long conversation in the town centre.
While we talked about the 463rd PFA website, Ray asked me if I could make a site for the 321st too, because there was no official site for them. We talked about the possibilities and after a while we agreed: "Let's give it a try...!"
today the site is still under construction