Looking for ...
Send me your questions, I will post them here... (in your language)

463rd PFA

Motion pictures and the 463 Parachute Field Artillery Battalion

Filip,
Thanks for responding to my message and for forwarding it to others with connections to the 463rd. In case someone receiving this message may remember my father-in-law, Roy Lynwood Montague, his nickname was "Monty" and he was in Battery A.

As I mentioned, we have a collection of his letters written to my mother-in-law beginning in March 1943 when he was at Fort Bragg. There are 150 letters, first from Fort Bragg when he was with the 456th. (She was a NC girl, and they met at a dance there.) Then the letters were written from shipboard, North Africa, Sicily, Italy, France, and Germany. In March 1945 he was "one of six or eight men from my outfit" who were sent on a jump into Germany for a few days with the 17th Airborne. There are another 100 letters written to her when he was back in the US and they were planning their wedding. It has been a real privilege for me to read and catalogue these letters. They provide an amazing record of war and love.

There was one passage that I want to follow up on, if at all possible, because it mentions "motion pictures" and I wondered whether these might be in existence somewhere. Here's the passage:

Southern France, Monday, Oct. 2nd, 1944
"One of our best loved characters is the medical captain, he came overseas with us, and is a veteran of the Sicily jump, Italian campaign, and S. Fr. jump. Seldom it is that he is seen without his camera, a motion picture camera at that. "Doc" Moore is well known for his nerve, or lack of nerve. While everyone else are hiding their heads in a corner Doc is out in the midst of an air-raid, planes, tracers, flak, and unexploded anti-aircraft shell, taking pictures. And he apparently loves to visit the front lines for exciting shots. He undoubtedly has one of the best of war picture collections. Captain Moore is long and lanky, slow moving, and slow talking, comes from Wash. D.C., listens with a sympathizing ear to anyone's troubles whatever they be, and is a comforting person to have around. He's a swell doctor, both in and out of combat."

It would be wonderful to find these films if they still exist. Do any of you know anything about them?
Thanks for your help!

Amy Montague

Posted : January 5th, 2006.

We got an answer from Doug Bailey about this question (Thanks Doug):
Filip I sent Amy a e-mail about Doc Moores Film.
He did have some film and he showed it to us at the 463rd's First reunion in Nashville, TN.
The Film was not very long as my memory tells me.
Doc Moore and myself both came down with Yellow Jaundice in Sicily and we were both pretty sick from it.
Doc. Moore was never married so I do not know what happened to the Film.
That's all I know about the Film.
Doug.
---
The son of Frank A. Nyiri is looking for information on his Dad.

I am the son of Frank A. Nyiri. My Father served in WWII in the 101st Airborne. He jumped on D-Day. He was in the glider field artillery, I believe. I have tried getting information about my father though the government's center in St. Louis, only to find out that his records were destroyed in a fire. I have his "nuts" brass plate sand casting from Bastogne.
A photograph of my father shows hat with a round patch with a parachute and glider on it (left side) and a pin with three stars on the right side (sorry the photo quality does not allow for better description.) Dad was a tech sergeant. He had both glider wings and jump wings (remember dad talking about having to jump at the end of the war to qualify for jump pay…)
I remember he had a book (about the 101st) that was published in the late 50's or early 60's that had his name in it. I believe it talked about his unit resting in Germany and what they were doing there.
Any information you may have about him or places to look or people to contact to get more information about my father, my son and I would appreciate your help.

Sincerely – Jack P. Nyiri (jpnyiri@comcast.com or jack.nyiri@mcmail.vanderbilt.edu)

Posted : January 07, 2004.
---
101st Airborne Division

My name is Alan Major. I am the son of Lt. Col. Charles W. Major (he went by the name of "Tad" and did not attain this rank until later in his military career). Myself, along with my brother and sister, have researched US Army service records and his DD214 indicates he served during WWII in Normandy, Holland and Belgium. He passed away shortly after the war while we were young. We are interested in contacting anyone who may have served with him. We would also like to be advised of reunions involving the 101st. Please forward this message as may be applicable. Thank you.
Alan Major. (mail : Alan Major)

Posted : December 04, 2003.
---

463rd PFA

463 Parachute Field Artillery Battalion

William 'Bill' Tingen, North Carolina, was a member of the 463th PFABn in World War II and is looking for all kinds of information about his unit. Contact Bill through e-mail at wtingen@cox.net please.

As webmaster, I too am mostly interested in the history of this (forgotten ?) unit. Please contact me. Filip

Posted : April 18, 2003.
---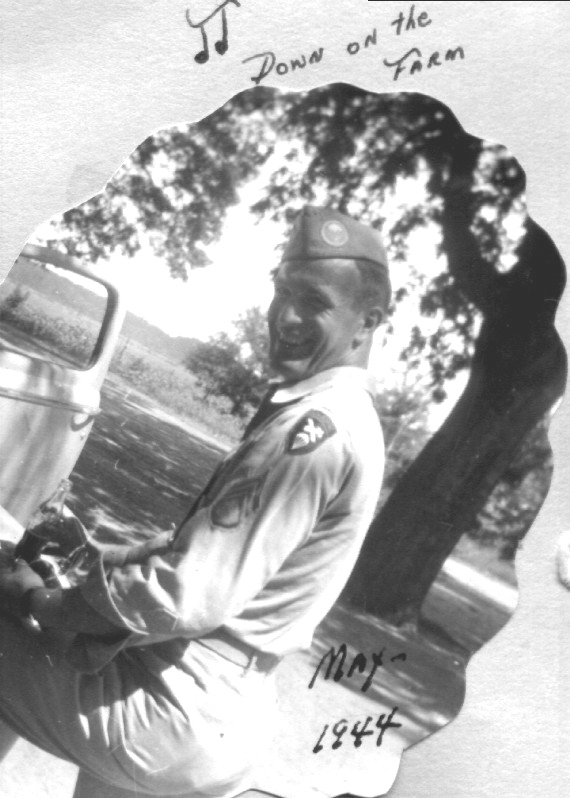 Click the image
Tess Stinson is looking for persons who might have know her dad...
In Search of: anyone who may have known my Father, GLEN LOUIS NESMITH. He served as a paratrooper jumpmaster at Ft. Benning, Georgia in 1943-44. He was a Staff Sergeant and wore an Airborne Command patch before being shipped to Europe at the end of June 1944. His DOB was 2-27-20 – he was from Belleville, Kansas although he married a Georgian in March 1944 and lived out his life in Columbus, Georgia. I have discovered that he was a member of the 501st Airborne PIR and served in Holland, Bastogne and was in France after the war as late as August 1945. I am also told that he replaced a First Sergeant of F company, 501st after D-Day. Any information may be emailed to: Tess Stinson, tess@linesontime.com or to the webmaster of this site. Thank you!
Posted : Christmas Eve, 2002.
---