Trooper Richard 'Dick' Carroll

Photo taken in Italy.

Photo's enclosed are of my father, PFC Richard A. CARROLL of "A" Battery 456 PFA, 82nd A/B and when the 463rd PFA was formed in Italy. He was in "A" Battery 463rd. Later they were attached to the 101st A/B. He was severely wounded on 25 December 1944 at Bastogne (Hemroulle).

He remained in a hospital in England until he was flown home. He remained in the hospital until April-May time frame and was medically retired 29 September 1945. My Dad was born, 8 May 1922 in Norfolk, Virginia. When Dad was a young man he liked to box, golf, dance and date good looking women! Coming from a family with barely enough to get by on, he would go to the golf course, find golf "lost balls" and sell them to have enough money to go on a date. Dad worked in the Civilian Conservation Corps for 6 months, from Jan 1940 - June 1940. He was working as a boilermaker apprentice when he enlisted on 17 November 1942 (Age 20). He served with the 9th Armored Division for a short time. I have a picture of him as a Corporal and wearing a 9th Armored Division patch. He must have been "busted" a few times before he went to jump school!!!!

He is listed as a PVT up until the last few months of the war when he was promoted to PFC. He volunteered for Airborne and went to jump school at Ft. Benning GA. In the April-July time frame. (Co. I, 1st PTR) his discharge has him finishing jump school 31 July 43. I have his liberty card dated 5 July 43. He was sent to the Airborne Training Center in Ouija, North Africa arriving in Sep of 43. (Battery D, ABTC ) but I think he must have arrived there sooner than that because of the dated pictures he had.
In December 1943 he was assigned to the "A" Battery of the 456th PFA, 82nd A/B, in Italy.
In February of 1944 the 456th PFA was broken up and the 463rd was formed from the "A" & "B" Batteries of the 456th while the rest of the 456th PFA was transferred to the U.K., preparing itself for D-Day. The 463rd was then an independent battalion supporting anyone that needed them. Dad went with "A" Battery of the 463rd.
In a letter to me from Dads 1st Sgt of "A" Battery, Joe Stolmeier, also known as "Dirty Joe" ... his words, dated 7/30/2002, he said: "They had 4 sections in each Battery with a 5th section for each Battery, it was composed of 2 squads. Those squads were in charge of protecting the firing Batteries. They had, 2 50cal machine guns, 2 bazookas, lots of Tommy Guns and boxes of grenades". Joe told me he put "the meanest son of a bitches" in the 5th squad because the Batteries depended on them to protect their ass! Imagine that, my Dad was in the 5th section! All 130lbs, five foot four one half inches of him....a "mean fighting machine". Well, he did like to box! His squad leader was S/Sgt James W. Ayers! Jim Ayers became a minister in Chattanooga TN after the war and died around 1995. Joe said, he thinks Cpl. Harold e. Cook, T/5 Francis H. Kane, Cpl. Joseph F. Fritz and T/5 Raymond R. Rogers were also in the 5th section. The other squad leader was Sgt. James Schwartz.
On July 15, 1944 the 463rd arrived by truck in Lido di Roma Italy to be a part of the 1st Airborne Task Force. They were to launch "Operation Dragoon". The 463rd was assigned as Artillery support for the 509th PIR. They were to assist by fire, the capture of Le Muy by the 2nd Independent Parachute Brigade. At 0425 15 Aug 1944 at an altitude of between 600 and 1000ft, with the ground blanketed by fog and no signal, Major Seaton and Serial 4 kicked off the invasion of Southern France. They landed 1000 yards from their LZ. and by 7 AM "A" Battery had 3 of their 4 guns assembled.
Dad made this combat jump with the 463rd into Southern France. He was wounded on the jump when he landed in a tree. The Batteries under Seaton fired 62 rounds between the 15th & 16th in support of the 509PIR on Le Muy. Col. Cooper broke an ankle on the jump but stayed with the unit till the 17th! In a newspaper article in June of 1945 my Dad stated, he had made 25 jumps, with 2 combat jumps. Harry, my father's oldest brother, said, my Dad did a combat jump with some "special unit" in Italy! I had always questioned that because of the time frame of my Dad getting to Italy, he would have missed the 2 jumps there! When talking with col. Stuart Seaton (463rd battalion XO), that "special unit" turned out to be the "1st Special Service Force"...(FSSF). Col Seaton informed me that he had Lt. Dan Martin, my Dad and some of the men jump with the FSSF. That unit was a Commando unit that was composed of US and Canadian troops under the command of U.S. Army LtCol later Major General Robert T. Fredrick. The 463rd was their Artillery support while in Italy.
In Oct of 44 Col Cooper & Lt Mury found a big hotel in Nice France, the "Bristol". Lt. Mury acted as its manager and ran the hotel as rest basin for each of the Batteries on a rotating basis. "A" battery had a three day pass there. Think that's where the picture of Dad was taken in his combat jump suit. This was not long before part of the unit left for the camp at Mourmelon near Reims France. The 463rd were to wait for the 17th AB Div. "A" Battery was left back to hold, literally the fort, an old French fort on top of a mountain. Dad arrived at Camp Mourmelon 1 day before they pulled out for Bastogne. When the 101st got orders to go into Bastogne they had no Artillery support, so Col. Cooper offered the support of the 463rd. Shortly there after, Col. Cooper got permission from the 327th Glider Inf. Reg. and they were on their way! The 463rd then was assigned to 101st!
Many of the men had been in 456PFA of the 82nd AB, 463PFA, and now the 101st AB. Wow! They had seen a lot of combat by this time. At first the 101st men thought these 463rd guys were just a bunch of "new-bees", but Col Cooper was quick to let them know other wise. Harry told me, Dad was using a bazooka the day he was severely wounded at Bastogne. Military records of him being wounded and a letter from his 1st Sgt have backed up what Harry was saying. In a letter from Dads 1st Sgt he stated: It was in the very early morning hours of 25 Dec 1944, there was a church about 500 yards west of "A" Btry, their CP was a farm house located on the same north side of the road. Dads bazooka position was across the road and down a gentle slop about 100 yards and about 300 yards back east to the right flank of our Btry. He said he thought Dads other half of the team was Cpl. Boothe. I swear I don't know how he could remember such detail, but I'm glad he did! They had just fired the bazooka at an attacking tank, the round glanced off the turret and didn't explode. Just then a tank crewmen machine gunned their position striking Dad in the jaw, shoulder and leg. The leg wound was the worst. I remember him with his shoe having to be build up about 1" or more. He was taken off the field to the church that was being used as the aid station. Wounded Germans on one side of the room GI's on the other. It's ironic that this very building today has a plaque dedicated to 463rd.
Joe in one of his letter stated that the 5th section of "A" Btry lost 3 men during the 25th Dec tank attack. T/5 Raphael A. Albo was killed by a mortar round, the wounded was PFC. Richard A. Carroll and T/5 Frances H. Kane. This made Dad's fourth time being wounded.


Casualty Report "A" Battery - December 1944
On the evening of the 26th a few American tanks cleared opened an escape route and most all the wounded were evacuated. Dad was sent to a hospital in England. It was touch and go for while as to whether they would remove his leg. Lucky for him a few new Dr's arrived that knew what they were doing. He was there until March of 1945, and then sent back to the States. I have a picture of him in a hospital bed after arriving at the Woodrow Wilson Hospital in Staunton VA in March of 45. He was medically discharged September of 45. My mother and he married in July of 45.
Dad's older brother S/Sgt Harry J Carroll of the 97BG - 414Sqd Heavy, was a waist gunner on B-17's flying out of Tunisia when his plane was shot down by A/A on 12 Sep 43. He and the the tail gunner were the only two to get out. He landed in a field 12 miles outside of Rome. Moments after landing two German soldiers on motor cycles show up and he became a POW for 20 months at Stalag 17B. When the war ended he was released and along with hundreds of other POW's, marched several hundred miles before getting to where they could get home. He showed up unannounced the very morning of Dads wedding and was the best man. Harry stayed in the Army through the change over to the Air Force. He served in Korea and retired in 1964. Harry died at the of age 85 in January 2006.
Tom was the youngest of the three sons. He was drafted late in the war and was with 94th Div, 301 Inf. in the vicinity of Serrig Germany. On 2 March 1945 he was listed as MIA. He was in the combat area less than 30 days, all this before his 19th birthday. PVT Thomas M. Carroll's remains were later found sometime in 1948! They were returned home and buried in Norfolk VA.
I was the only son of PFC Richard A. Carroll, I was born Jan 29 1947. My mother and father divorced when I was just a baby and I did not see or hear from my father after the age of 11. That's another story in its self. One of the tragedies of a divorce! Around the year 2000 I tried to find my Dad, but by that time he unfortunately had already passed away, Oct 22 1998 in Norfolk VA at the age of 76. Since then, I have learned a lot about him and the kind of man he was. I have tried since then to honor him with my searching for his military passed, I, myself retired from the Marine Corps after 30 years of service. To me this has been and is a labor of love doing this. I have met 7 men (all officers) from the 463rd and 1 enlisted man from the 456th. I have only found 1 that knew my dad... Dad's 1st Sgt, Joe Stolmeier! I found him alive and well in 2002, living in CA. We have written and talked a few times to each other. I am seeking any and all info, stories, pictures of the men in the unit. From any one of the Batteries I only have a few pictures of Dad during this time and I will post what pictures I have of him with anyone interested. Thanks for any help that may come my way. All the info contained here on my Dad came from letters and phone calls with A-Battery's 1st/Sgt Joe Stolmeier. A few things came from Dad's older brother, Harry Carroll, some of the unit history and stories came first hand from Col. Seaton, Lt. Joe Lyons, Ken Hesler, Lt. Victor Tofany, Lt. Sheppard, Doug Bailey, Lt. Henry Smithers, S/Sgt Ralph Yeager and George Koskimaki. I would like to thank them all for helping me to put Dads history together, so that I might pass it down.
Richard R Carroll USMC Ret.

This photo was taken most likely when he first went into the service and was with the 9th Armored Division in 1942.


Photo taken in France, October 1944,
at the Bristol Hotel in Nice.

"The man on the right of Dad "Dick Carroll" is unknown.
Maybe someone might ID him ?"

"I'm enclosing a picture of another man that might have been a member of the unit.
My Dad was a amateur boxer
and this was someone he must have spared with.
Someone out there might know who he is ?"

Richard R. Carroll :
"V-MAIL from Dad over there :"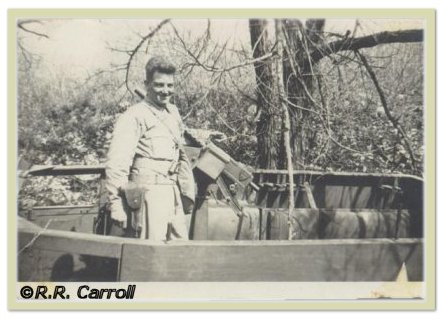 Back at home
"Alive & home
soon to be Mr. & Mrs. Carroll"

Richard.R. Carroll :
"My Dad with my 1st cousin in July 45."

"Mother and Dad the day they got married"

"Home in 1945 :"
Follow up comments by Major S. Seaton
Filip, Richard, this is my follow-up comments to your previous e-mails.
I hope that they will shed some light on your questions.
I do not recall whether or not enlisted men went to jump school as privates, but officers went with their rank at the time.
When the 456 was split : Hq, A&B Btrys remained in Italy (at Anzio) and on Feb 20 ,1944 was designated 463. C&D Btrys remained 456 and went to England with the 82d Div.
Concerning the subject of a fifth section, I think Richard is referring to the machine gun section not a gun section. Each firing battery had a section for AT and AA and ground defense. The names that Joe Stolmeier mentioned comprised the MG Section and Jim Ayres was in charge of the section. I think that this ties into what the fifth section was.
I have no way to verify the 25 jumps. Thinking back I think I had 9 jumps by the time I returned to the US after WW II. That would be 5 at jump school, the Sicily jump, the So France jump and the other two must have been either test or training jumps Some members who joined the unit later might have had more training jumps in Africa.
Richard mentioned a mission that Lt Martin and some members of the FSSF had in Italy. Martin's first name was Don not Dan (nickname Bull ). As I remember it was a drop on top of one of the mountains to afford better observation for artillery firing. I do recall that it was planned, however I'm not positive if it actually was executed. Since Don Martin and our S-3 Major Vic Garrett are both deceased I don't know how to check on my memory.
Filip and Richard, I hope that this will be of some assistance to you.
Stuart Seaton
---