Trooper TEC 5 Earl David (Bud) Chew
Thanks to Jim Growney for the provided info.
Pictures (C) are all courtesy of Jim Growney.
Mr. Earl D. (Bud) CHEW

With friends, Bud is far left

Earl David (Bud) Chew was born on November 19, 1924. He grew up in Atchison, Kansas. Bud and his sister Lorraine were raised by their mother in Atchison.

The story of how Bud came to enlist is a humorous one, but likely a common one back then. At the time, he was working at Blair Milling in Atchison filling cattle-feed sacks. He and his buddy were working on the sack line and decided right then they should join the war, and so they left the machines running, the grain kept flowing and the sacks kept piling up. He was 19 years old.

Bud rarely talked about his service and experiences, but he fondly told one story of how he gained a special skill at diving behind woodpiles to evade German bullets. We often thought that he could tell many more stories of how he and his men braved a tough enemy, the elements, and saw hard fighting. To that generation, it was just doing what had to be done.

Upon his return home from the Army after serving with the 463rd PFAB, he worked as a switchman for the railroad at the Stock Yards in St. Joseph, Missouri, until he retired. He married Barbara Gartland of St. Joseph, MO in August 1952. They had no children, but were well loved by a large number of nieces and nephews.

Bud and Barbara liked to travel. They traveled to Switzerland, to Ireland twice, and all over the United States. Together with relatives they traveled to Germany, France and Belgium, and to Bastogne in 1986, back to the Battle of the Bulge and other World War II historic sites. Relatives traveling with them said the trip brought him back many memories.

His wife Barbara died on September 11, 2001 in Atchison, Kansas. The last few years of his life Bud carried portable oxygen around with him, but it didn't keep him down. He was always willing to go out to eat or to visit with friends and even travel short distances. Bud died on June 28, 2004. He was almost 80 years old.

On his death, a news article was printed in the St Joseph News-Press entitled "Woodpiles" by Ray Scherer, who frequently featured WWII vets of the St Joseph area with articles honoring their service.

It is a well written article and is posted below. Ray interviewed Gertrude Gartland-Growney (Barbara Gartland-Chew's sister), John T. Growney, MD and myself (nephew).

Authors Note:

Uncle Bud was always a big influence for me, and a personal hero. In 1982, I decided I wanted to join the Army. I told the recruiter I wanted to go Airborne and to go to Italy. The fact that they had a Cannon Crewman slot open settled the deal and I signed up. I went through basic, AIT and jump school (I wanted Uncle Bud to give me my blood wings, but they wouldn't allow it). I was stationed in Vicenza Italy in September 1982 with Delta Battery, 1st Bn 509th Airborne Battalion Combat Team (later recolored 4/235 ABCT, now 173rd Airborne). I treasured the fact that the 509th Airborne was originally supported by the 463rd PFAB! What a small world, and I felt honored to partially walk in Uncle Bud's footsteps.

Jim Growney 2/6/2011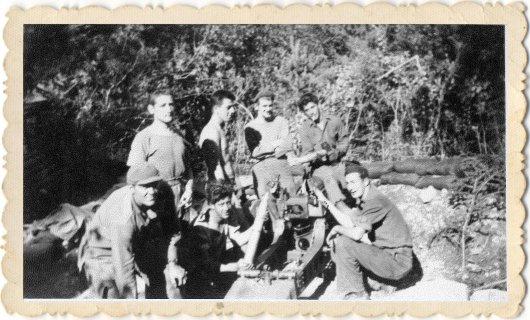 Bud with gun crew on Pack 75.
Likely taken in Italy. Bud is 2nd from left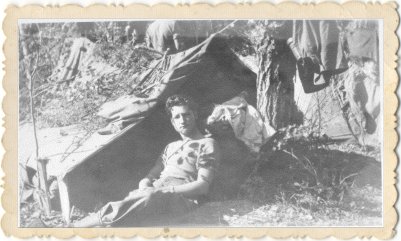 Bud in front of shelter half.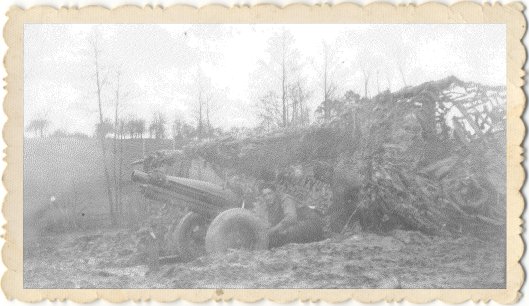 Bud kneeling by gun behind wheel
at gunner position under camo net.
Probably taken in France.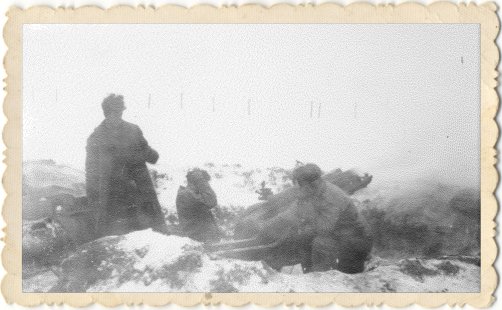 Gun firing, most likely at Bastogne.
WOODPILES by Ray Scherer

St. Joseph News-Press

Earl D. "Bud" Chew didn't know when he entered the U.S. Army that he'd gain a special skill at diving behind woodpiles to evade German bullets.

But fighting an often-unseen enemy in Europe's thick forests forced soldiers to rely on their imaginations to shield themselves. Mr. Chew's relatives said his unique ability to take cover turned out to be an effective lifesaver and was a source of pride that mixed in well with humorous war stories.

"He loved woodpiles," said Dr. John Growney, husband of sister-in-law Trudy Growney.

Mr. Chew, who was a St. Joseph resident, died June 25 at age 79. He left behind a wealth of memories for his family of his World War II service and their reflections of his quiet warmth.

His relatives tell a story of how he immediately fled his job of sewing cattle-feed sacks at an Atchison, Kan., mill simply because he wanted to serve his nation's military.

Eventually, he would learn how to parachute out of an airplane. Most importantly, he participated in the historic and pivotal Battle of the Bulge.

Entering the military was literally a split-second decision for Mr. Chew, Dr. Growney said. The big moment occurred at Blair Milling in Atchison.

"He and his buddy were working on the sack line and decided they should join the war," he said. "They left the machines running. And the grain kept flowing and the sacks kept coming."

He was inducted into the U.S. Army on July 10, 1943, entering as an infantry rifleman, said nephew Jim Growney. He completed parachute jump school in late January 1944 and was trained as a cannoneer on 75mm howitzers that could be taken apart and loaded onto pack mules.

Before the war ended in spring 1945, Mr. Chew would be able to count service in five European campaigns. His battlefield accomplishments earned him five Bronze Stars and one Bronze Arrowhead, among other honors. He was one of seven members of the 463rd Parachute Field Artillery Battalion to receive a Bronze Star for the Battle of the Bulge. He also was credited with making one combat parachute jump.

But family members said Mr. Chew took all of his achievements in stride, grounding his service on the basic premise of doing a job for his country.

"He never talked about it," Mr. Growney said of the Bronze Stars. The exploits influenced him to serve in an Army unit that included a 1980s stint in Italy, where his uncle had served four decades before.

"I always looked up to what he did," he said.

Mr. Chew's collection of wartime memorabilia and photos includes a 101st Airborne Division message from headquarters that recounts the famous "Nuts!" reply of Brig. Gen. Anthony McAuliffe to a German demand for surrender at Bastogne in late December 1944.

A 1986 trip back to the Battle of the Bulge and other World War II historic sites brought back memories, said Mrs. Growney.

"We went all through that area," she said.

"He was so happy to be able to come back," Dr. Growney added.

---

Bud looks like he's Standing at Attention

(Probably Bad Reichenhall area.)

Bud on right in dark swimsuit,

at swimming pool ladder.

(Probably Bad Reichenhall, Germany)

Bud's DD214 (Service Record).
Bud was released as a Technician Grade 5.
It shows 5 Bronze stars (with Oak Leaf Cluster) and 1 Bronze Arrowhead.

(Additional awards of the Bronze Star Medal are denoted
in the Army and Air Force by Oak Leaf Clusters)

---

A blue fabric patch, with the wings and lettering in red embroidery.

The 463 is hand sewn with white thread. It is quite unique.
---