Trooper PFC Peter Chuba
Peter Chuba, 463rd PFAB, "D" Battery Interview
With thanks to his daughter Mrs. Andrea (Chuba) Polukis
Photo taken in 1944

I was born in 1922, in Mahanoy Plane, Pennsylvania, the middle child out of nine. My parents emigrated from Ukraine when they were teenagers, and my father worked in the coal mines of Pennsylvania. I was the first of the children to graduate high school. My older brothers and sisters had to quit school to go to work, because the times were very poor.

Schoolboy to Soldier

About the Japanese attack : it never phased me at the time because we didn't know what was happening world wide. We did not hear much news about other happenings in the war and did not know about the attack on Pearl Harbor and did not know about the war in the Pacific until later on.

After high school graduation, I joined the CC camps (Civilian Conservation Core) because money and jobs were scarce. In the CC camps, you got $ 30,00 a month and $ 22,00 went home to your family. I was there for 6 months. Then I joined the Army on January 18, 1941. My parents did not say much. Afterwards, one other brother enlisted and one was drafted. Certainly, the whole family was concerned for our safety at war time.

I began Training in the U.S. at Edgewood Arsenal, Maryland; then went to Fort Bragg, NC; then sent to Fort Benning, Georgia. First it was artillery training.

Edgewood Arsenal was a mule and horse camp, Fort Bragg and Fort Benning consisted of infantry and parachute training.

I remember being a little disappointed in going to Edgewood Arsenal because I was supposed to go to a mechanized outfit, and Edgewood Arsenal turned out to be all mules and horses! I was 19 at this time.

After these sites, I was put into the 99th Field Artillery, and it was learn as you go.

The food was not too bad… if you were hungry, you ate it! Sometimes while still in the U.S., we were allowed to go home on weekend furloughs.

I was also part of the Test Battery. It was very tough. Over half of the men failed.

Practice Jump Tower

Ready To Jump...
Heading Overseas
I was on the Monterey. There were ships all over, everywhere you looked, to protect the troops. The Monterey was very crowded.
Africa was very hot and muggy. I was there for two months, May to July. Not much was going on there, it was mainly a time for further training.

B Battery, 456th PFA, Africa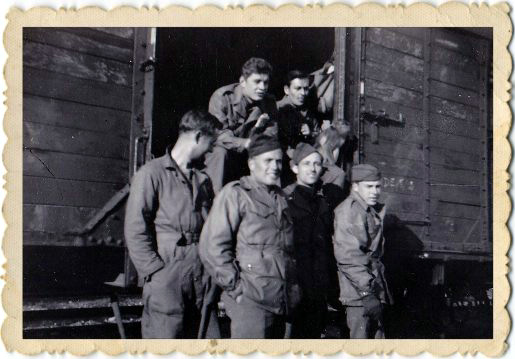 40 and 8 Box Car in Africa, 456th PFA.
The Sicily Campaign
In the 456th as well as in the 463rd Parachute Field Artillery I was a member of the parachute rigger section, my job consisted of handling the chutes an getting them ready. I jumped in Sicily, and I remember lots of walking... marching on foot from Gela, then to Trapani, I took part in a few battles.
Italy
I was at Anzio. We did what we were ordered to do, didn't know much about what was happening anywhere else. We stayed around our gun positions. At night we were harassed by the firing of the gun from enemy lines, known as "Anzio Annie".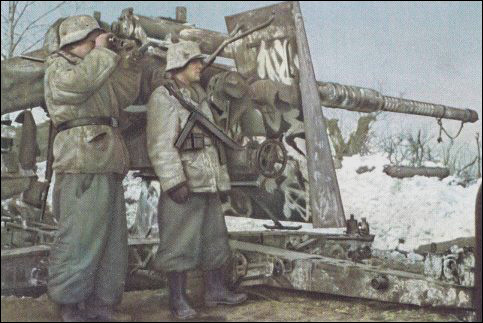 Gun known as Anzio Annie
At the end of Anzio, they took C and D Battery, and they were sent to England. Headquarters, A and B battery stayed behind and formed the 463rd. From there we went to Rome. Part of us stayed at the Pope's summer home in Lake Albano. Then we went to Lido de Roma.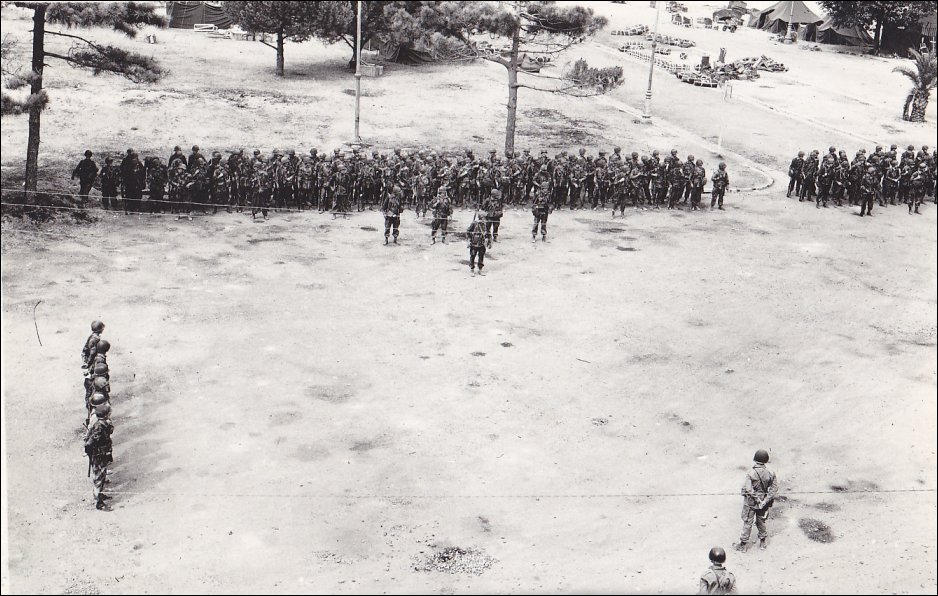 Formation before jump into Southern France,
at Lido di Roma
France
We jumped into Southern France, in a town called Le Muy. We fought along the French Riviera (Nice, Cannes, and Antibes, and Mentone). We stayed up in the Alps. I remember it being very cold! I was probably in the battle for Jausiers but I don't remember, because we were in battles where we did not know the names of the towns at the time.
| | |
| --- | --- |
| Peter Chuba in the Alps | Southern France, 1944. |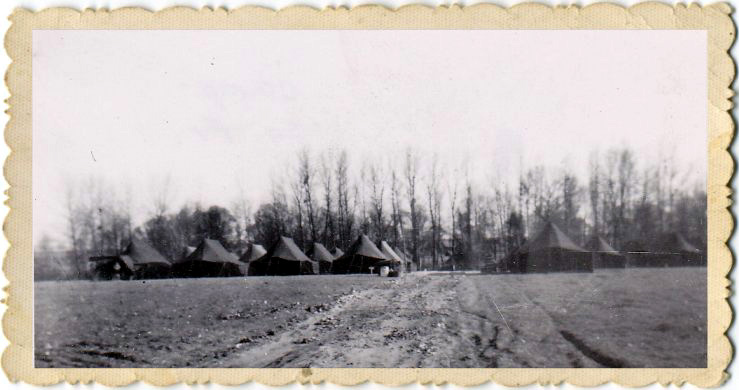 Camp in Southern France, 1944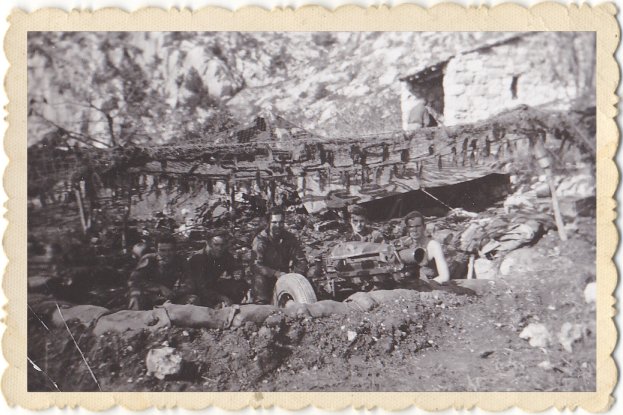 Gun positions in Southern France, 1944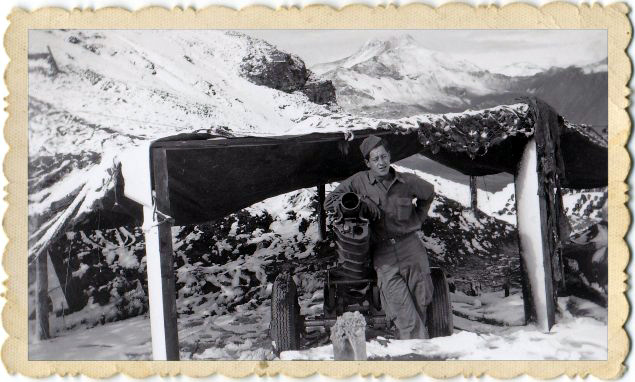 Camouflage Shelter in the Alps, 1944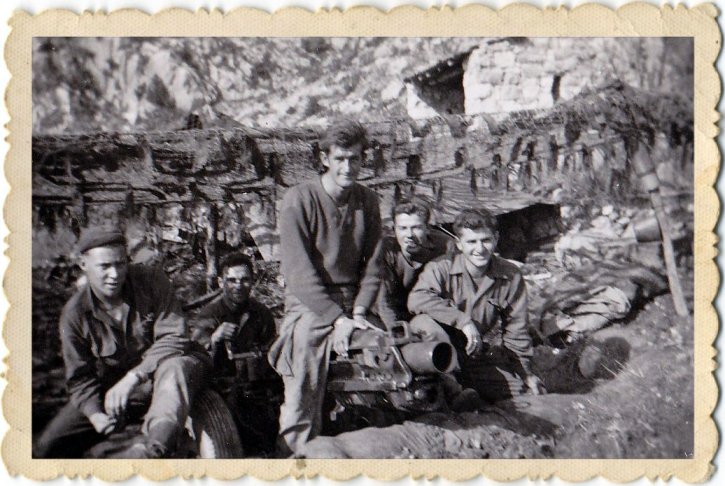 Gun positions in Southern France, 1944
Hemroulle
At the time that we were en-route to Bastogne we just followed orders and most of the time we just did not know where we were. I remember us riding in the backs of trucks, and it was cold ! I recall that we stayed at our gun positions from the 19th of December and the battle didn't end until about January 17th. We slept in foxholes and stayed with our guns. I never saw our Battalion CP nor our Aid Station, because I was always at my Gun Position. We slept in foxholes around our gun, there were about 12-14 men/gun in a gun crew. Once in awhile, I got to sleep in a building, but most of the time we slept in a sleeping bag in a foxhole. When you are young and tired, you sleep anywhere you have to. The food was rations and once in awhile, they brought us hot food.
As personal firearm I first had a carbine, but then I traded it for an M-1.
Alsace and Mourmelon
After Bastogne I stayed in combat. We did not stay in Mourmelon very long. I don't remember much about the Presidential Unit Citation Ceremony but I did get the Presidential Unit Citation.
| | |
| --- | --- |
| Before the barracks in Mourmelon | On leave in Paris |
Germany
When the war ended, we ended up in Bad Reichenhall. I wasn't to expect a new assignment since I was discharged.
Life After the 463rd
When the war in Europe ended I had 140 points and was able to be discharged. I returned home to Pennsylvania. I got married in 1949, and my wife and I moved to Long Island, NY and we lived there for over 25 years. We raised two daughters there. In 1976, we moved back to our hometown area in Pennsylvania, where I worked until I was 84 years old. I am 89 now, and my wife Ann and I still live in our home since 1976.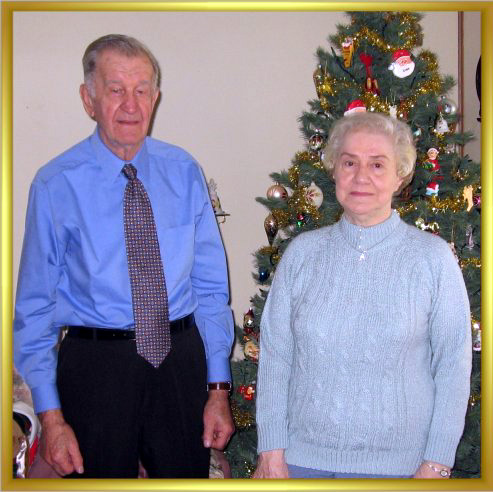 Mr. and Mrs. Peter and Ann Chuba in 2008
I met some members of the 463rd at reunions, yes, a few times. In the 1980's I became active in the 82nd Airborne Association in the Wilkes-Barre Scranton Area, and attended many of their annual events. I also was active with the 101st Airborne, and went to events and conventions. My wife and I formed friendships with several other veterans. Unfortunately, they were from all parts of the country and we lost touch.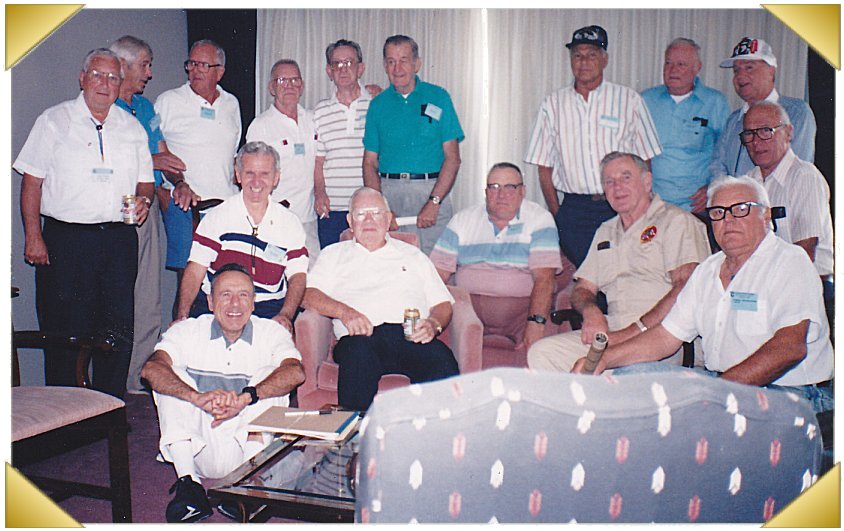 Lansing, Michigan, August 1993
Standing from left…
1. Unknown Visitor, 2. Steve Stiegel 3. Vic Toffany 4. Bill Volk 5. Bill Everhart
6. Peter Chuba 7. Gus Hazzard 8. Cabot Booth 9. Joe Stolmeier
Seated, from left..
10. Sam Caiazzo 11. John Cooper 12. Reed Satterstrom
13. John Mockabee 14. Joe Lyons 15. Tom Wojciechowski
16. (sitting on floor) Tony Spagnol
Reflections
No one wants to see a World War, but if I could do it all over ... I can't think of anything that I would personally change. To keep the memory alive we need to teach our students more about our history and how we fought for freedom, we need websites such as yours (= ours *); also books, and sharing pictures and stories.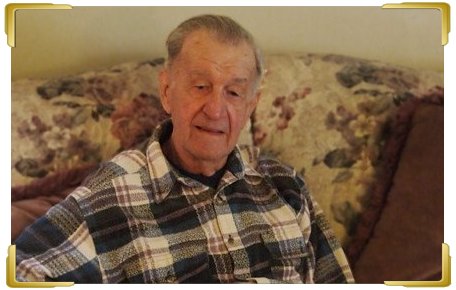 Mr. Peter Chuba, April 2011.
THANKS
Mr. Chuba, thank you very much for this interview !
* Webmaster's note
---